Take control of your wellbeing journey and access support your way

Take control of your wellbeing journey and access support your way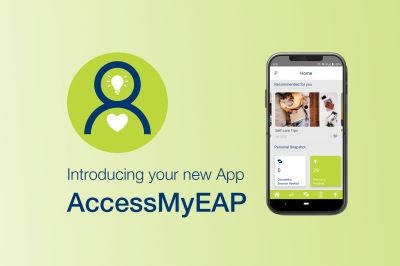 At AccessEAP, our vision is for each person to be their best at life and work. It's important to us, and we have developed a program of works to ensure we can support this vision by working with you and your people. This includes empowering our people, connecting with people and excellence in all we do. These strategic themes guide our pathway for innovation and bring innovation to life for us every day.
We partner with you to create mentally healthy and thriving workplaces and communities. Our latest wellbeing innovations directly support our vision and mission by allowing us to strengthen our partnership with you and connect directly to you and your people wherever they may be.
I am very excited to announce the launch of our new app AccessMyEAP, alongside our online Booking Portal and AccessChat instant messaging service.
This trio of online services put you and your people in control of your wellbeing journey.
We're making it easy for you to access your own EAP and wellbeing services with our intuitive, dynamic and continually updated app. Put yourself in control of your mental health and wellbeing. Make a booking to speak with one of our counsellors. Read tips, strategies and new ways to support your mental health and wellbeing journey. Choose your own wellbeing tools and resources based on your preferences, goals and interests. Download from Google Play or the Apple Store.
AccessChat is our instant messaging counselling service, which allows clients to access counselling services from their phone or desktop no matter where they are.
Choose how you access support, browse counsellors based on speciality and location, choose a convenient time and manage your appointment with reminders and updates. Get started here.
Over time these new digital resources will help shape and grow your EAP and wellbeing services to increase engagement and effectiveness. We look forward to supporting you with these innovations.
Sally Kirkright, AccessEAP CEO