Project Coordinator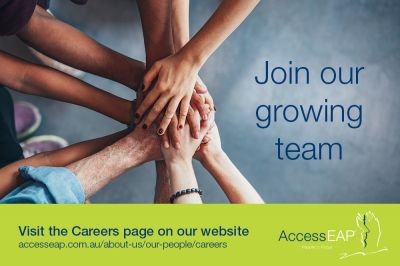 Help build organisational capability
Digital Transformation focus
8-month contract - Possible long term opportunity
AccessEAP partners with businesses to promote positive organisational behaviour, enhance employee well-being and improve workplace productivity. As an Australian owned, profit for purpose Employee Assistance Program (EAP) provider their outstanding success is based on understanding the unique needs of customers and tailoring services to support and prevent mental health issues in the workplace. As a growing organisation currently going through a transformation we need a passionate and talented person to join the Projects & Innovation team.
Your role will be to coordinate and document progress on a digital transformation project using the AccessEAP project management methodology. This will likely result in a number of additional projects. Working closely with the external vendor you will plan, communicate and monitor all project activities and ensure deadlines are met. Importantly you will engage with all stakeholders to manage project issues, risks and change to deliver enhanced outcomes for customers, clients and the AccessEAP team.
Your track record of success leading digital system development and implementation projects will reflect your strong influence and relationship building skills. You will have experience developing and implementing Salesforce systems. Your key strengths will include your analysis, judgement, planning and organising skills. A strong understanding of project management methodologies and change leadership are prerequisites.
Most importantly you will enjoy working in a team environment that is driven by the values of Respect, Collaboration, Integrity, Curiosity and Accomplishment. AccessEAP take the health of employees seriously and you will be working in an environment that genuinely cares about the wellbeing of all employees
For more information call David Williams on 0414551795 or to apply send your resume to dwilliams@kurtispaige.com.au