Leadership Series – Emotional Intelligence

Leadership Series – Emotional Intelligence
Shari Walton, Organisational Development Consultant
The term emotional intelligence was popularized in 1995 by psychologist and behavioural science journalist Dr. Daniel Goleman in his book, Emotional Intelligence. Dr. Goleman described emotional intelligence as a person's ability to manage their feelings so that those feelings are expressed appropriately and effectively. Goleman's Emotional Intelligence Framework contains four components.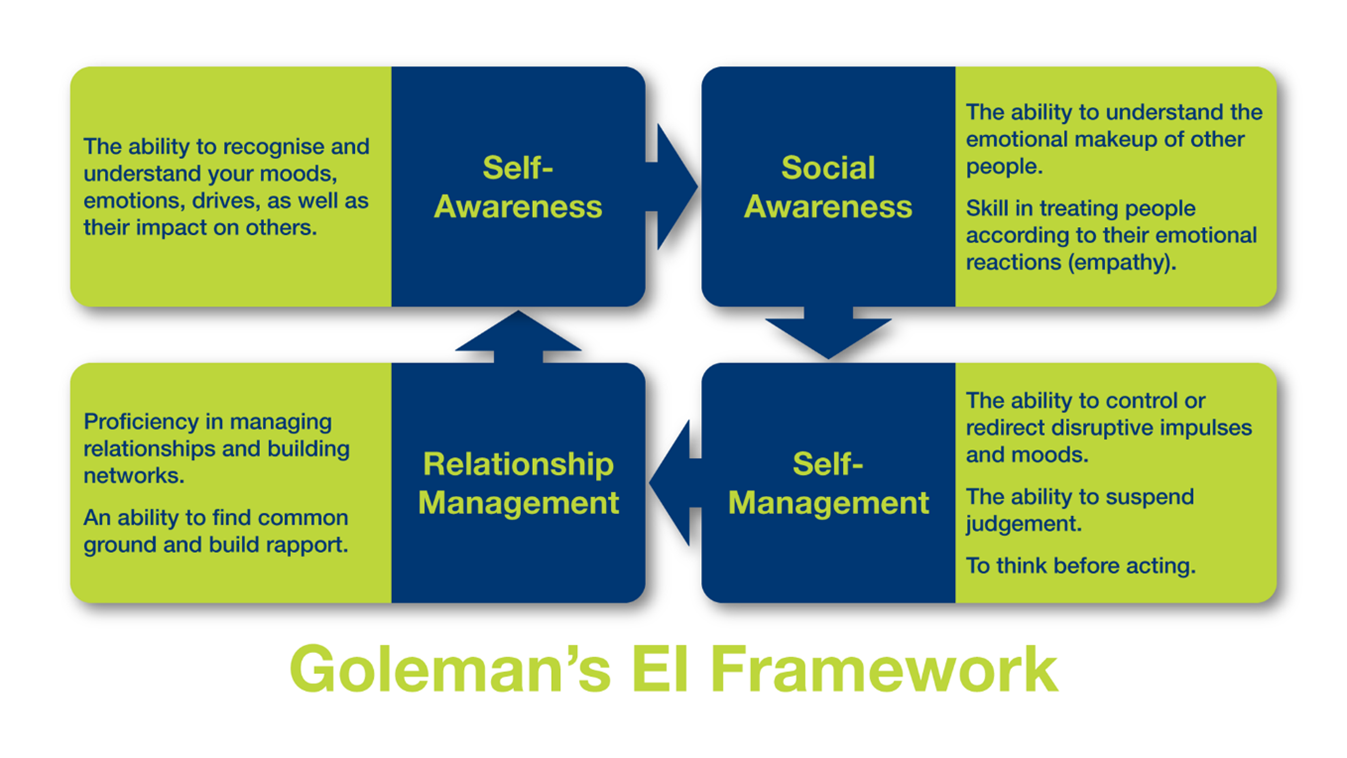 -------------------------------------------------------------------------------------------------------
Some suggestions for how to embed key components from each of the four quadrants are outlined below.
Self-awareness strategies include:
Keep a journal
Slow down
Step away and find perspective
Practice optimism
Social Awareness suggestions include developing:
Empathy: Builds human connection through understanding others' emotions.
Service orientation: Assist staff personal development and explore issues impacting on others personal development and growth. How and where do you add value to your employees, colleagues, team members?
Organisational Awareness: Understanding the dynamics of your team – who are the influencers? How are their strengths capitalized within your team?
Self-management includes 6 subcategories: emotional self-control, trustworthiness, contentiousness, adaptability, achievement, and initiative. Suggestions for self management actions to explore:
Regulate your emotional responses in your interactions with others.
Find your calm in the situation
Remove judgements and assumptions
Respond in a controlled manner
Relationship management includes 8 subcategories:
Developing Others – recognise strengths and offering challenges.
Influence - build consensus and support - focus on what is important to others
Communication - ensure the right emotional tone is used.
Conflict Management - realizing when a situation is heading towards conflict and taking quick and decisive action to resolve it.
Leadership - be the person that others choose to follow.
Change Catalyst - question established ideals and initiate new ideas, recognizing when change is needed.
Building Bonds - by cultivating an extensive network of colleagues, acquaintances, and friends that has mutual benefit.
Teamwork and Collaboration - defining your success criteria in such a way that everyone can make their own unique and valued contribution.
The most effective influencers and leaders integrate 4 or more of the above characteristics regularly into their leadership practice. For more information, reach out to your Relationship Manager to arrange a consult with our Organisational Development Team.
To arrange a counselling appointment, call AccessEAP on 1800 818 728.
----------------------------------------------------------------------------
Shari Walton is an enthusiastic solution-focused senior Organisation Development Consultant with extensive experience designing, developing, and implementing a broad range of Leadership Development, Talent Management, and other Learning and Organisation Development interventions that drive change and support individual, team, and business success.
Shari has over 30 years' experience in the organisation development field across Finance, IT and Higher Education sectors. This experience is complemented with formal qualifications in Human Resources, Learning & Development, Executive Coaching, along with a Graduation Diploma in Communication Management, and a Diploma in Holistic Wellness Coaching.