Leadership Series – Resolving Conflict Constructively

Leadership Series – Resolving Conflict Constructively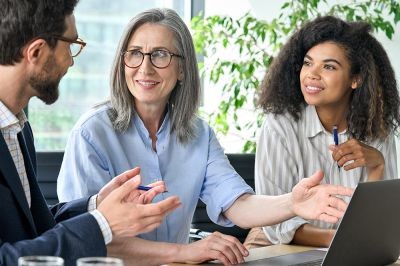 Shari Walton, Organisational Development Consultant
Conflict is a continuum. Not enough can lead to apathy, artificial harmony, individuals suppressing their wants and needs and too much can lead to loss of self-confidence, disengagement, depression, break-down of work relationships or lack of productivity.
As a leader, how you manage smaller conflicts will impact how many escalate into serious conflicts such as severe employee relations issues, staff turnover, low employee engagement, and even legal claims.
Conflict may arise due to a range of factors including miscommunication, lack of information, conflicting goals, different values or unequal power and access to resources. Whilst conflict is a natural workplace phenomenon, if managed well it can be beneficial for an organization as it can stimulate diversity of thought, development of more mature and meaningful interpersonal relationships and contribute to innovation.
Consider a recent conflict you may have found yourself in and self-evaluate your response using this checklist: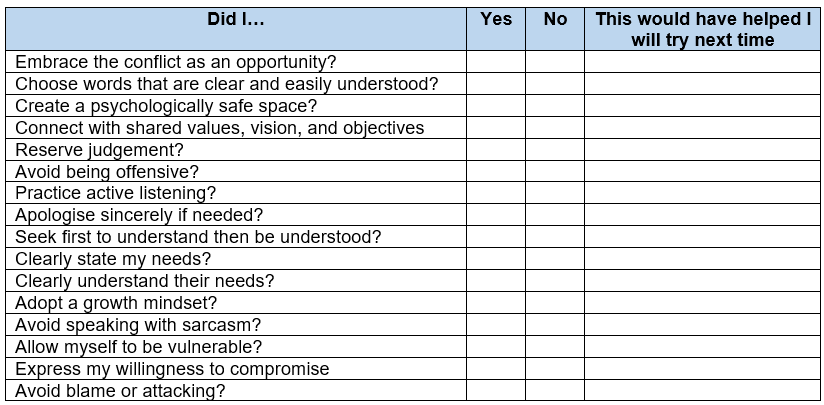 We each have a preferred, or default, way of dealing with issues of conflict and although this can serve us well in certain types of situations, we may need to consciously adjust our style and draw on the skills associated with a different conflict style at times. Developing a broader range of interpersonal skills will help improve your ability as a leader to effectively resolve conflicts. Consider adopting some of the ideas identified in the above checklist and proactively look for opportunities to bring these into your future interactions.
For more information or support, reach out to your Relationship Manager to arrange a consult with our Organisational Development Team.
Shari Walton is an enthusiastic solution-focused senior Organisation Development Consultant with extensive experience designing, developing, and implementing a broad range of Leadership Development, Talent Management, and other Learning and Organisation Development interventions that drive change and support individual, team and business success.
Shari has over 30 years of experience in the organisation development field across Finance, IT and Higher Education sectors. This experience is complemented with formal qualifications in Human Resources, Learning & Development, Executive Coaching, along with a Graduation Diploma in Communication Management, and a Diploma in Holistic Wellness Coaching.