Leaders to Challenge Stigma of Mental Health

Leaders to Challenge Stigma of Mental Health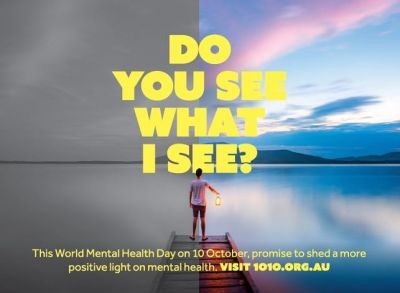 Employees with mental health issues report that that they are unlikely to tell their managers about their issues for fear of being judged. There is still a stigma around mental health is some workplaces. This fear and not speaking out creates more stress for employees and possibly impacts on absenteeism and presenteeism. While many companies are making an effort to move mental health and wellbeing to the top of the agenda, a lack of time and resources are often used as excuses for not following through.
The 10th October is World Mental Health Day and encourages us to unite in efforts to improve the mental health of people around the word and challenge the misconceptions about those experiencing mental illness.
According to research, 45% of Australians have experienced mental health issues in their lifetime[1], and while the workplace is not the main reason for people developing a mental health issue, it is definitely a contributing factor. Long hours, stressful workloads, job insecurity and lack of engagement are sometimes normalised within companies, yet they affect the mental wellbeing of employees and can lead to issues such as anxiety or depression.
"As a manager, you are in a unique position to promote positive mental health at work, explains Marcela Slepica, Clinical Director here at AccessEAP. "Given the prevalence of mental health issues in Australia, it is likely that at any given time someone in your team will either be experiencing symptoms or will be vulnerable to developing symptoms.
"There are so many ways in which you can actively challenge stigma and help a person in your team remain connected, stay productive and feel valued at work, whilst they experience mental health concerns. One simple action that organisations can take is to nominate a mental health or wellbeing ambassador, someone within the team who can have peer-to-peer conversations with colleagues about mental health issues and encourage them to seek help."
Additional tips to assist in creating a safe and healthy environment for all employees and employers alike include:
Have a Conversation
If you notice behaviour in the workplace which concerns you, initiate a private, confidential and supportive discussion with the employee. Create a comfortable space where they will be able to have an honest conversation about what they are experiencing. Provide reassurance that they are valued.
Respect Privacy
Ensure that any information an employee shares with you about mental health symptoms is not disclosed to anyone else without their consent. Even if the employee takes some sick leave due to mental health symptoms, they must be the one to decide what is said to their colleagues about their absence from work.
Make Adjustments and a Plan
If someone is experiencing mental health symptoms, don't assume that they shouldn't be at work. Work provides purpose, meaning and a sense of achievement. Consider adjustments to tasks or working hours to help them remain at work. Involve them in the plan.
Use Non-judgemental Language and Stay Calm
Be aware and sensitive around the language that you use in regard to someone's mental health. If someone feels judged about their mental health, this may stop them from getting help, language needs to be non judgemental, supportive and accepting. Listen and stay calm.
Focus on Strengths
People who live with mental health symptoms are and have the potential to be effective and productive members of their family, community, and workplace. Recognise your team members for what they contribute and the strengths they bring to their role at work.
[1] ABS National Survey of Mental Health and Wellbeing 2018