Creating a thriving workplace this Feel Good February – Sally Kirkright, CEO AccessEAP

Creating a thriving workplace this Feel Good February – Sally Kirkright, CEO AccessEAP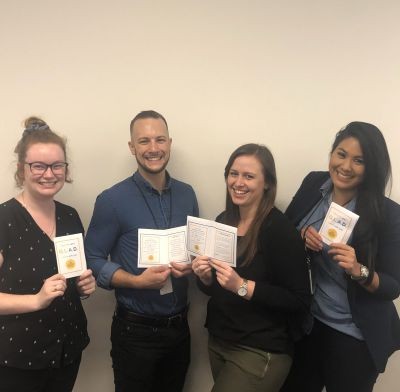 At AccessEAP we love curiosity, being curious is one of our values and can really help to create a thriving workplace. This morning I received a card (like the one below) with an anonymous, personal message from one of my colleagues. Themed GLAD it highlighted four positive things about me. I must admit it not only made me feel good - it made me feel happy, proud, humble and overwhelmed – it brought a tear to my eye. It was a deeply emotional experience. Around our state offices these cards were being opened and experienced by all our people. I have included some of the reactions below and pictured are some smiling members of our Client Services Team!
This Feel Good February initiative was the work of our Wellbeing Champions. Informed by feedback from our Employee Engagement Surveys and as part of our internal wellbeing strategy we have recruited a team of Wellbeing Champions. These champions represent each of our divisions so bring a wealth of clinical, marketing, service, financial and management experience to the table. There brief is to implement initiatives which are valued and enhance the wellbeing of our people.
Each month the Wellbeing Champions work with their teams, creating initiatives to remind us to focus on our own mental health and wellbeing. Not every initiative will hit the mark and that's OK but when they do they have a powerful, positive impact on mental health and workplace wellbeing. We will share these gems with our customers via our Wellbeing In Focus Calendar.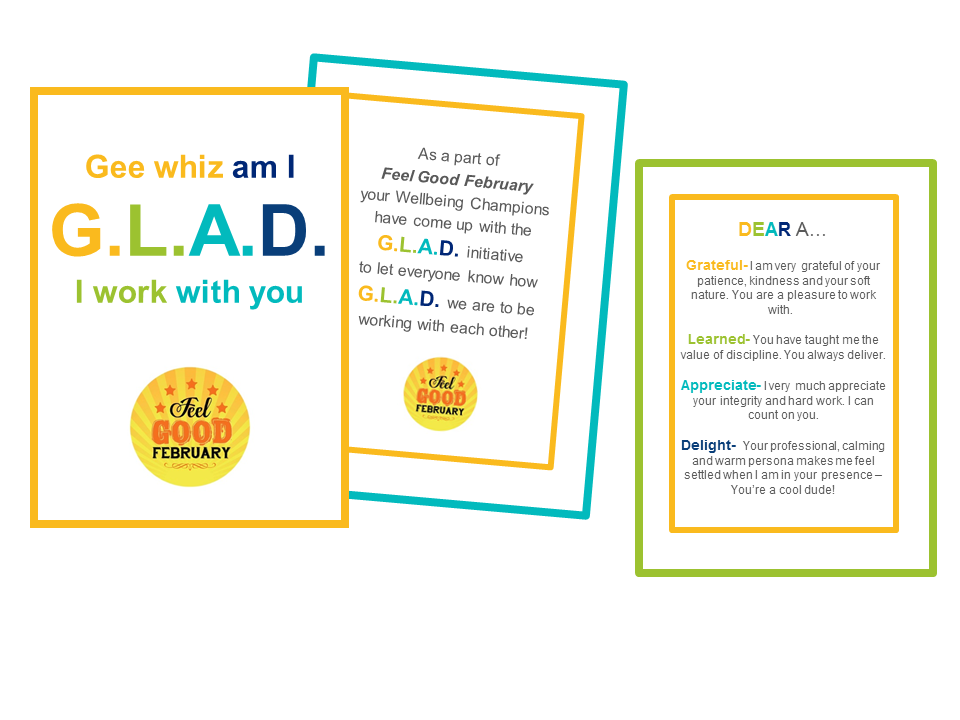 Initiatives such as these increase engagement and satisfaction related to recognition for work accomplishments; relationships with coworkers and supervisors. Organisations that are the best in engaging their employees achieve earnings-per-share growth that is more than four times that of their competitors. Compared with business units in the bottom quartile, those in the top quartile of engagement realise substantially better customer engagement, higher productivity, better retention, fewer accidents, and 21% higher profitability. Engaged workers also report better health outcomes.1.
1.Gallup Employee Engagement Poll. These findings are based on a random sample of 30,628 full- and part-time U.S. employees working for an employer from January to June 2018.
Talk to your Relationship Manager today and find out how to get thriving!
"I came in this morning to be greeted with a lovely surprise! Thank you to the person who wrote the message to me. It was so thoughtful and kind. I feel very humbled. You've made my day! What a wonderful initiative."
"To our wonderful Wellbeing Team Champions, Thank you so much for organising such a heart warming initiative today."
"A very big thank you to my Wellbeing fairy for your kind and heartfelt words."
"We are a very amazing, unique and very special team and one that I am so proud to be part of I wanted to thank you for the amazing initiative from the Wellbeing champions with GLAD. Thank you. "
"Gorgeous initiative and beautifully presented! Thanks Champs and wonderful colleagues :)"
"This was a great touch, and a fantastic way to start the day. It's great to have joined a team who value each other the way we do here – I've noticed lots of smiles this morning. To the Champions – yes you are! :)"