A Day in the Life of an AccessEAP Ambassador

A Day in the Life of an AccessEAP Ambassador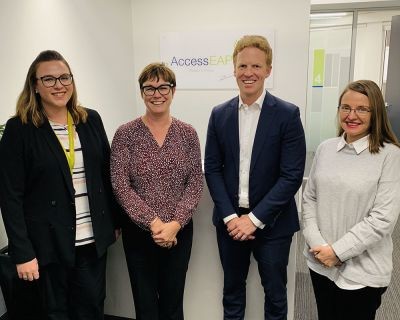 We recently had the pleasure of delivering a Day in the Life of an AccessEAP Ambassador as part of our AccessEAP Ambassador Program Conversational Series training. Our Program Lead, Michelle Donaldson, hosted the session live from AccessEAP Melbourne and was joined by our outstanding panellists: Doug Winger and Elaine Ross, two dedicated Ambassadors from Mirvac, along with Kate McPhee, one of our Senior Psychologists. We extend a big THANK YOU to our panelists for volunteering their time and sharing valuable insights with the wider AccessEAP Ambassador community.
The Panel's top tips for peer support are:
Keep the conversation going.
Ask for help as an individual and as an AccessEAP Ambassador.
Promote the EAP generally and around monthly themes.
Reduce stigma by seeking help yourself.
Have appropriate conversations – time and place is important.
Be politely persistent.
Check out the full video below.
Does your organisation value peer support? For more information about the Ambassador Program click here or contact your Relationship Manager.