Celebrate Difference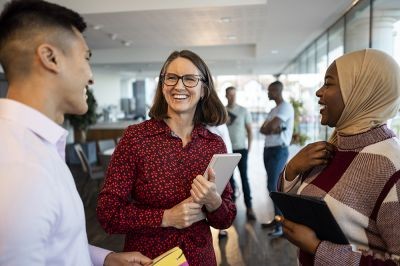 The creation of your workplace culture comes from all the everyday interactions between everyone who works at your organisation. From the way people say good morning when they arrive at work or join an online team meeting, to all-employee email communications, all these interactions help create your particular organisational culture. And placing the practice of diversity and inclusion as a central part of your people strategy helps shape these everyday interactions, encouraging a workplace where respect and trust are top of mind.
Diversity is who we are. It's the mix of visible and invisible differences such as differences in gender, age, mental or physical ability, ethnicity, and values. Diversity is endless and can be compared with an iceberg: there are aspects that are very visible, such as gender, age, and skin colour; and other aspects that are under the surface, such as education and thinking style. Diversity in an organisation brings the differences in thought and perspectives that come with all different life experiences, backgrounds and demographics.
Inclusion is how we make people feel. Inclusion is helping people feel valued and free to be themselves, even if they look, think or behave differently from the majority. Diversity and inclusion go hand-in-hand. It's been said that 'diversity is being invited to the party, and inclusion is being asked to dance.' One without the other leaves the process of creating a workplace where difference is embraced incomplete.
Did you know…
The most inclusive and diverse companies are 6x more likely to innovate[1]
Diverse teams are 87% more likely to make sound business decisions[2]
Companies with the most ethnically diverse leadership teams deliver 33% higher returns to investors[3]
Therefore, a culture where diversity and inclusion are regularly talked about, practised and advocated not only makes for a more equitable work environment, it also makes excellent business sense. Research shows we tend to prefer the familiar. Creating and supporting a diverse workplace is a conscious choice. Whatever your role, you can make a difference. Leading by example and encouraging others to do the same is vital – for example, you can aim to always respect and include others and encourage openness to hearing, discussing and debating differences of opinion. Importantly, it's about noticing our own unconscious bias – the kneejerk assumptions and responses towards others who we perceive as different. It might then take conscious effort to consider the world from their standpoint, and to consider their ideas. This doesn't mean you have to agree with everyone you meet – but it does mean you strive towards respectful dialogue. Inviting this dialogue, actively pursuing diversity and inclusion, benefits business, benefits those who may become marginalised, and benefits us as we see the world through different lenses.
[1] Deloitte
[2] Cloverpop
[3] McKinsey