Are you being understood?

Are you being understood?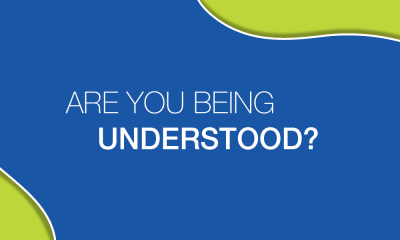 In a recent nation-wide study, involving over 4,000 people, almost 1 in 3 Australians reported feeling lonely, with 1 in 6 experiencing severe loneliness.[1] And while 40% of people who said they are lonely live alone, 30% of people who live with others also report feeling lonely.
All this suggests loneliness is a problem in this country.
Continuing on from World Mental Health Day, it is a good time to consider your own degree of social connection and sense of belonging – both important ingredients for good mental health.
When we feel connected to others, we feel understood by them. And feeling understood and connected is a basic human need. It begins from the moment we are born. Loving caregivers want to understand what a baby needs – are they hungry, too cold, too warm? Do they need to be picked up and held? Babies are very good at communicating when they are not understood – they become unhappy and let others know it! And they are also very good at communicating when they are understood – they look into an adult's eyes and smile, or perhaps laugh and make 'happy sounds'. It's obvious when a baby feels understood – they look happy and connect with those around them.
But as we become adults, we can learn to hide when we are not feeling understood – we learn to pretend that we are happy, but inside we know we're not. Why do we do this? Perhaps we tried to get people to understand us, but we just couldn't make it happen. Maybe no one really got what we were about. And maybe we started to feel ashamed about that. We started to feel that this was somehow our fault.
The truth is that to be misunderstood can be very painful. It can lead to feeling cut off from others, isolated and lonely. Loneliness can then eat away at us. Left to be with our difficult thoughts and feelings, without being able to share them with someone else, makes us feel even lonelier.
So being understood is important. As we communicate with others it helps us understand ourselves. We feel more 'solid' as we interact with others who are empathetic to who we are. We feel we belong, that we are part of a group that accepts us, and that as we aim to achieve, so we are supported.
So as we reach the end of Mental Health Month, consider to what degree you feel understood by those around you, and to what extent you understand others. What changes could you make to improve your feeling of connection with others? Making yourself understood can take effort, and it might involve overcoming some old habits – perhaps you've got used to not speaking up, or maybe seeking out people who are more likely to understand you could be helpful. Or maybe you've stopped making the effort to really understand others. Putting in the effort could be very rewarding.
Wanting a sense of connection and to be understood is present in us from the very start of life. This month set aside some time to build your sense of connection with others.
AccessEAP can provide a confidential space to speak about your mental health and wellbeing. Reach out for a chat and know that anything discussed with your counsellor won't be shared with your workplace. Call AccessEAP on 1800 818 728.
Stephen Malloch, Manager Clinical Consulting
[1] State of the Nation Report: Social connection in Australia 2023. A deep-dive into Loneliness and Social Isolaton. www.endingloneliness.com.au