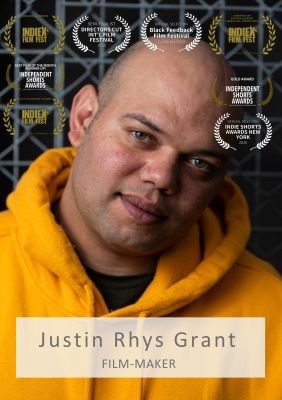 At AccessEAP we are committed to developing cultural competency across our business. For us, that means providing the best possible experience for our Aboriginal and Torres Strait Islander customers. By increasing our cultural awareness and knowledge of historical events impacting the nature of trauma experienced by Aboriginal and Torres Strait Islander employees today, we offer the opportunity to develop more culturally appropriate EAP holistic support services. In order for us to authenticate our commitment, AccessEAP is investing in the ongoing development of cultural sensitivity within our workforce by offering online Cultural Competency Training for all employees and through consulting with people such as Justin to increase our knowledge and understanding.
Justin Rhys Grant is a Walrpiri/Jawoyn man, a highly acclaimed and awarded actor, writer, producer and film director. Justin was born in Katherine, in the Northern Territory, and grew up listening to his Elders sharing their Dream Time stories from a young age. They always taught that a story is gifted to you and you must honour it's life and respect it as a gift to you in your life journey.
Through his own company, Witchenini Entertainment, Justin brings his role as a story teller to life in film and television. Witchenini Entertainment offers proper Indigenous protocol training for all staff in order to gather and collect traditional stories in the right way, following the laws of communities and community engagement. "We hold high the Cultural Protocols and respect for each and every Indigenous People treating them as individuals", Justin confirms.
Justin is working with AccessEAP on a number of projects and offered to create this short video to put into practice the ideas behind this year's NAIDOC Week theme: Healing Country! It is a very personal sharing of his grandfather's storytelling regarding 'respect for differences of each culture'. His message is to find ways to work "on" Country for healing together. Justin's manner is quiet and peaceful as he shares his personal experience and encourages us all to see how we can connect.

Please take some quiet time to watch this video and feel free to connect with Esmé Holmes our Senior Clinician/Cultural Inclusion & Diversity Consultant. You may also like to learn more about the Aboriginal and Torres Strait Islander Peoples Dedicated Support Line.