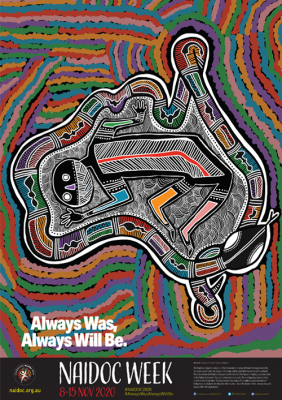 This year due to the pandemic NAIDOC Week was celebrated from November 8-15th; however, some groups decided to celebrate at the usual time in July. We are certainly in need of reasons to celebrate and NAIDOC week provides a great opportunity for all Australians. NAIDOC Week marks an important time for First Nations Peoples as it's a time of celebration and connection with each other, community and country, symbolising respect, sharing of culture, a time of reflection, healing and pride for all Australians.

Non First Nations leaders in Australia can feel unsure and worried about how to develop cultural sensitivity and ways to learn and nurture relationships with cultural respect. With Cultural Awareness, listening, learning and making a commitment to increasing our knowledge and cultural sensitivity are important steps toward building confidence and cultural competence. It is a journey and requires commitment, patience and effort with great rewards.

This week the spotlight is turned on strengthening understanding of the rich cultural history, heritage and achievements of Aboriginal and Torres Strait Islander Peoples and celebrate together with First Nations Employees or organisations. Our new tools focus on how you and your people can move forward in the area of cultural competence at an organisational level but also on a very practical personal level. Find our wide range of Leader Tools and Personal Tools, in the Employer and Employee Login Areas of our website.
As part of our journey toward cultural competency at AccessEAP non First Nations Employees completed Arilla Cultural Competency training earlier this year. We found that straight away we were better equipped to understand that cultural competency is an ongoing journey. This led to the launch of our Aboriginal and Torres Strait Islander Peoples Dedicated Support Line, which I encourage you to make use of and learn more about here.
Reach out to here at AccessEAP. As always, our people are here to help support you and your people be their best in life and work.
AccessEAP acknowledges the traditional custodians of the land we work on and their continuing connection to land, culture and community. We pay our respects to Elders past, present and future.