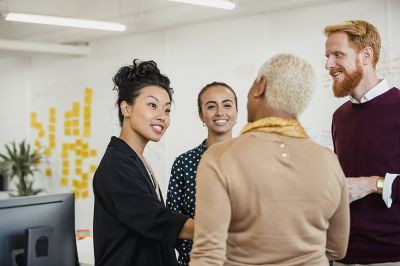 Samantha Dounis, Learning and Development Advisor
"There is nothing permanent except change." - Heraclitus, Greek philosopher
In the workplace and indeed in life, change is a constant! Change interrupts the flow, up-ends the status quo and very often leads to conflicts. Effective leaders embrace change, recognise diversity, and manage it well by encouraging inclusion and helping the individual, team, and organisation to thrive.
Organisations are impacted by changes from various sources - external factors we have no control over, including globalisation, changes in legislation or the economy, as well as internal factors like technological improvements, operational efficiencies or changes in products and services. Resistance to change is natural and should not be discouraged, but rather discussed and understood, bringing in diverse voices to work through the issues.
There are various models that can be successful for managing change in the workplace. John Kotter, a professor at Harvard Business School and world-renowned change expert, laid out an eight-step change process.
Change Management Checklist
Create a sense of urgency

Establish change as a priority across all populations; everyone should feel the need for change – opportunities and benefits
Build a guiding coalition

Find a diverse group who will support the change. This may include a sponsor, a senior guiding team and a field team on the ground
Form a strategic vision

Develop a strategy to drive change, align it to organisational vision, include input from employees, keep it simple and easy to understand
Enlist a volunteer army

Communicate vision, be inclusive, and welcome input from many
Enable action by removing barriers

Empower others to act and implement change, include all levels of your guiding coalition
Generate short term wins

Introduce achievable short terms goals to generate momentum. Visible quick wins should be unambiguous and related to the change initiative
Sustain acceleration

Capitalise on early wins to drive momentum and keep moving forward
Institute change

Incorporate changes so they are sustainable and able to be replicated – make them stick
"The secret of change is to focus all of your energy not on fighting the old, but on building the new" – Socrates, Greek philosopher
Samantha Dounis is a Learning and Development Advisor who consults with customers to help them manage their learning and development needs. Sam has a strong background in account management and client services and is passionate about workplace mental health. Having completed a Bachelor of Science (BSc) focused in Psychology at UNSW Australia, Samantha brings a wealth of experience in critical thinking, communication, project management, leadership, and research.