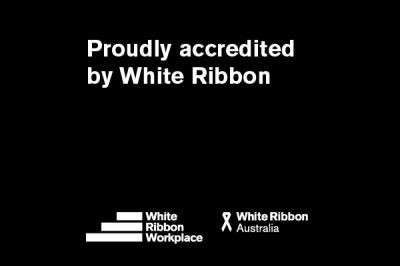 The program, facilitated by community service organisation Communicare, involves a whole of organisation commitment to address issues of gendered violence and sexual harassment against women.
It's a great honour to be a White Ribbon Australia Workplace and to play our part in responding to and ending violence against women. We took part in the accreditation process because we wanted to equip our staff with the knowledge and resources to better understand what gendered violence is, how to identify it and what they can do to prevent it. Whether in the workplace, or broader community, we all have a responsibility to stand up and speak out against behaviours that contribute to gendered violence, support women affected by it, and hold perpetrators accountable.
At AccessEAP, we strive for an inclusive and safe working environment for staff at all levels of our organisation. The White Ribbon Australia accreditation process has strengthened that internal culture.
To achieve accreditation, we had to meet 15 criteria under three standards to create a safer and more respectful workplace which is taking active steps to stop violence against women. The program is internationally recognised and to date has reached more than 600,000 employees nationally. As explained by White Ribbon Australia Executive Director Brad Chilcott, "Violence against women impacts on the health and safety of employees, their wellbeing and their productivity. It also has a negative impact on workplace culture, organisational reputation and bottom-line profit and loss."
At AccessEAP we are proud to join more than 240 Australian workplaces who have achieved accreditation. We stand by White Ribbon Australia who urges all Australian workplaces to undertake the accreditation process and demonstrate a culture of zero tolerance of violence against women. White Ribbon Australia is a part of a global social movement working to eliminate gendered violence, striving for an Australian society where all women and children are safe, including in our workplaces.
To find out more information, contact us on 1800 818 728.